Food & Restaurant Payroll Services
Would you like to find out more?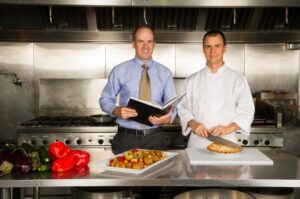 Restaurant payroll headaches typically include tip calculations, deductions, garnishments, and multiple pay rates for employees working in different departments.  Restaurants often have tight cash flow, high turnover with staff, and non-typical business hours. All of this can make payroll difficult to manage for any size restaurant. Our simple system and expert staff offer unmatched restaurant payroll services, so you can focus on running your restaurant and we can focus on the payroll.
We're Checkwise, and we'll be your server.
We know restaurant payroll!  CheckWise Payroll can help keep your payroll simple with our easy to use payroll system and friendly staff:
Our online payroll system allows you to submit new hires, make changes to employee information, gain access to payroll reports, and submit payroll hours and tips any time of the day or night.
We have a full staff of professional payroll specialists available to help you with all your payroll questions and needs.
We can provide IRS Form 8846 – Tip Credit Report, which allows you to get money back from the IRS for tips reported.
We offer Point-of-Sale (POS) system integration to seamlessly transfer clocked hours and tips from your POS to our payroll system.
If you're not using your POS system for clocked hours, we offer a fully integrated time and attendance system that collects hours and tips from your employees.  This system also accommodates different rates for employees working in different departments.
Why Restaurant Owners are Choosing CheckWise
We take the time to get to know each of our clients and their business's unique needs. Once we take an in-depth look at the needs of the business, we go above and beyond to deliver the most consistent and efficient payroll service.
Want to learn more about our restaurant payroll services? Contact us today!
"We have been a customer of CheckWise payroll for over 13 years and we are very pleased with their services. They are very knowledgeable, friendly and always timely. They make the process so simple for us. I just submit the employees' hours and they do all the rest. Their resources page is also helpful for me to quickly obtain any State or Federal form that I may need. They keep me up to date on any changes. I highly recommend them to any business looking for payroll processing services."