If your current payroll provider's service is not to the level your business requires, it may be time to make a change. Learning how to switch payroll providers may not be as daunting as it seems, you just need the right guide. Learn what you need to know about changing payroll providers, including:
The best time to change
The 6 simple steps to take when considering a switch
The importance of having a reliable payroll provider
Once you have identified that a transition is needed, the natural next step is understanding the timing.
The Best Time to Change Payroll Providers
You can switch payroll providers at any time throughout the year, but the beginning of a quarter (1/1, 4/1, 7/1, 10/1) is generally the best time. If you change service providers during these times you can avoid the hassle of having to collect week to week pay records from your previous provider for your new payroll company and instead use quarterly reports. Does this mean that you can't change in the middle of the year? Absolutely not. If you have an unreliable service provider it is most likely better to switch sooner rather than later.
The 6 Simple Steps to Switch Payroll Service Providers
Some business owners may put off starting the process of changing payroll services because they heard it is a challenge. While it does take some time and effort, it is simple when broken down step-by-step.
1) Find a Reliable Service Provider
Having a reliable and proven payroll service provider will help you avoid having to switch again in the future. Some metrics to look at when considering new providers include experience, client retention rate, and customer service. Finding a payroll company that shines in each of these three characteristics is a proven path to finding a successful long-term payroll service partner. 
2) Determine the Payroll Services Your Company Needs
Are there payroll services your company needs that your previous provider did not offer? Payroll service companies offer a wide range of services. Some of these services include:
Some providers may even include specialized services to cater to specific industries like construction, non-profit, and healthcare services. Knowing the full scope of services your company needs will help make for a smooth transition to your new provider.
3) Pick the Right Time
This step goes hand in hand with the first step. While talking with your current provider, ask how much notice is needed. You can then come up with a realistic timeline of when you can make the transition.
4) Get Information for Your New Service Provider
To make the transition as frictionless as possible, it is ideal to have some information ready for your new payroll company. This includes:
Company information
Tax ID numbers

Federal Employer Identification Number(EIN)
State tax withholding ID number
Local tax ID numbers (if applicable)

Payroll records and copies of tax returns for the current year
Employee information

Social Security Number
Current address
Pay rate
Tax filing status

Payroll information

Current deductions & contributions

Payroll tax returns

Payroll records for the current year
It is best to get this information to your new provider as soon as possible. As the old saying goes, communication really is key. Early communication of this information allows your new provider plenty of time to set up and get your employees checks out on schedule.
5) Review Your New Contract
You must be on the same page with your new company. Making sure that you read the fine print of the contract will help you both understand the full scope of services you need and help promote a healthy relationship moving forward.
6) Talk to Your Current Payroll Service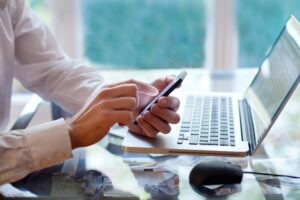 Let your current provider know that you are going to be changing providers and need to cancel your services with them. You should also ask them details on their cancellation policy.
Your new provider may also be able to help you to provide your previous payroll company with detailed instructions on how to handle outstanding tax payments or any other transitional payroll processes.
A Reliable Service Provider You Can Trust
Having an effective and efficient payroll process is one of the most important aspects of your business. Payroll is a good reflection of how your business is doing financially and affects everyone from the CEO to the interns. It is also important to know when there is a more viable option for your business and knowing how to switch payroll service providers if needed. Have more payroll questions? Contact us today to talk to a payroll expert.